If you want to increase organic traffic to your car dealership, you have seen the term search engine optimization or SEO. It's no surprise that automotive SEO is an essential part of any car dealership's marketing strategy. With the right techniques, you can ensure your website gains as much visibility as possible. With the proper tools, potential customers who are searching for cars online will find your website.
Since SEO focuses on organic traffic, it is a cost-effective way to reach a wide audience. Done properly, you can rank higher than local competitors and capture more traffic and leads.
But how can you execute an effective search engine optimization strategy? This article will be a comprehensive guide to automotive SEO and how to gain richer results through on-page tactics.
Search Engine Optimization for the Automotive Industry
SEO can be an invisible part of marketing. It is difficult to conceptualize how and why words or web page organization affect your overall website ranking. You should not notice well-executed SEO.
What is SEO?
Search engines like Google, Bing, or Yahoo create large and complex informational databases. They pull information from all over the internet and categorize it based on its relevance, quality, and quantity. They crawl and index websites page by page to create a well-organized system that lets users easily search through them.
Understanding how search engines work informs how we optimize websites to rank higher in their databases. Search engine optimization is the process of tailoring a website to the needs of users and customers. The more relevant a website is for people, the higher the "score" it will receive on a search engine.
Every webpage on a site should have one purpose. It should answer a customer's question and lead them to the information they want. Your search for "increase website traffic for car dealership" or "automotive organic marketing" may have led you to this article.
The purpose of this post is to provide value and answer questions you may have about SEO in the automotive industry. By the end, you should have a game plan on how to increase the website traffic for your car dealership.
Listen to the Go Sokal Podcast to learn how to leverage SEO for your business.
On-Page Automotive SEO
On-page SEO works to improve the visible elements of your website that search engines take note of. It is easy to implement on your site efficiently. This technique focuses on content creation, keyword optimization, and the basic structure of a webpage.
On-page SEO helps you create and maintain relevant content that answers questions and provides helpful information. If you are looking for ways to optimize your website, this is a great place to start.
Keyword Research
This is the backbone of on-page SEO. Keyword research is about predicting and understanding an audience's questions and how they ask them. You then place keywords strategically throughout your site.
We evaluate terms based on relevance, search volume, and market competition. These factors determine how much a keyword is searched. How many other websites are ranking for it, and your likelihood of ranking for it as well?
Keyword research starts with identifying seed words, which are relevant terms related to the industry. The starter terms are generic and tend to have a high search volume. Here is a short list of beginning words you can use to kickstart your research. Here are some terms a potential customer might use when buying a car.
Car dealership
Vehicles for sale
Trucks for sale
Used Cars
Electric Vehicle
Cars
Car service
Auto parts
While these are a great jumping-off point, optimizing for these generic terms might confuse search engines. It is also more difficult to create content around a topic like electric vehicles that relates to your dealership.
After you have identified the seed words that are relevant to you, expand this list with more specific search queries. Research your list by using Google Trends to track its relevance. You can also start typing your keywords into a search engine to see the related terms that appear with it. The more specific you can be, the more likely you are to rank for a topic.
When you search for your keyword, scroll down on the results to find related queries. This provides information about what people are searching for related to your topic. You can incorporate these secondary keywords into your content.
If you ask about a car's specific make and model, related questions might deal with horsepower, interior, capacity, and more. You can easily incorporate relevant information in your content using these queries.
There are free tools like Answer the Public that will give you related terms and phrases to a seed word. A drawback of this method is you get one to three free searches a day depending on your account status.
Keyword research is easier with tools like SEMRush. This web-based software provides information about a term's relevance, volume, and ranking difficulty.
It also estimates the cost per click (CPC) of the keyword. This is the cost of a click if you are using paid search and sponsored ads. Thoughtful SEO saves money in advertising!
An even easier way to perform keyword research is by using a marketing agency like Sokal. We are a full-service agency that has a whole team dedicated to SEO. We perform keyword research regularly and optimize the website for selected terms. We can also create content like blog posts to effectively target these words
Challenges with Automotive Keyword Research
A unique issue for the automotive industry and keyword research is not being able to outrank the manufacturer's website. If you search for the "2023 Hyundai Sonata", the first result to appear organically is from the Hyundai USA website.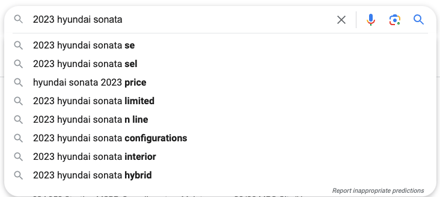 Manufacturers are the leading authority for the cars that they produce. Because of this, it is best to be as specific as possible when researching and identifying keywords to research.
Instead of "2023 Hyundai Sonata" try optimizing for "2023 Hyundai Sonata SEL images". This is a keyword that is more specific and still relevant. This makes it easier to rank and lead people to your website when you are buying a specific car.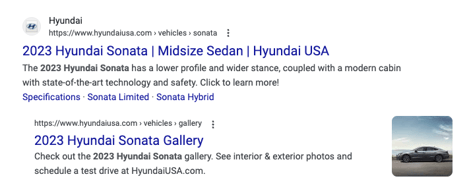 After you have created your list of keywords, what are your next steps? How are these terms utilized on a webpage? For really specific keywords, you can create individual web pages or blog posts that target that term. Additionally, you can make sure that webpages contain the target words and follow SEO hierarchy best practices.
The Importance of a Blog
Blogs are a great way to target specific keywords and create consistent high-quality content. They are also a great way to keep people updated with information about your car dealership or other general automotive news.
Let's look at this article as an example of an effective blog. The main keyword that we optimized for is "automotive SEO" You can find this term throughout the post. It is in the title, subtitles, and copy (paragraphs). Within the post, we also included related words like "automotive digital marketing" and "how to use automotive seo".
Selecting "automotive seo" as our keyword supports Sokal's overall website traffic. We are a full-service marketing agency that offers SEO packages to customers. Adding automotive to the terms made it more specific leading to better results.
Writing a general guide to SEO, which might have reached a larger audience, would have been harder to rank for. We also might not capture the people interested in our services and specialty. With more specificity, we can cater to our target audience and provide valuable content. This means more traffic and stronger leads.
Here are three ideas for blog posts that you can write for your car dealership:
Spend this Summer in the (Year) (Make) (Model) (Trim)
Make Sure You're Roadtrip Ready with These Tips
What is the Best Electric/Hybrid Vehicle for You
Blogs are a great way to reach an audience that might not have otherwise engaged with your dealership. Have fun and be creative. We recently wrote a blog for one of our clients about Nissan's partnership with designer Sandy Liang.
That post ranked third behind Vogue because of its attention to detail, structure, and keyword usage. Expanding search terms and content creation help you capture a variety of customers
Metadata & Automotive SEO Strategy
The more information you give to Google, the better you will rank. Metadata is a tool used to drive clicks and is in the HTML code of a website. The most common and relevant types of metadata are "title tags" and "meta descriptions". These two things name and describe the webpage.
Metadata isn't just an identifying factor for search engines. It also appears on the result page. For example, if you search Sokal this is the result that shows up.
The title of the webpage shows up as Sokal | Automotive Digital Advertising Agency. The meta description is the blurb of text below the title. More specific metadata is not only helpful for search engines but also for the users looking for information. Users can look over it and determine whether this is the webpage for them.

Below is just an example of how the metadata appears in the HTML of a website. Important if you are looking to update the metadata.

To ensure all of the metadata is viewable, the aim is for a maximum length of 60 and 160 characters for the title tag and meta description, respectively. This is a perfect place to use relevant keywords related to the webpage.
Content Optimization for Automotive SEO
Content optimization is a vast category of SEO, and it can mean a lot of things. This could look like a lot of things, but let's take a step back and review what content is.
For the purposes of SEO, content is everything that is on a webpage. This includes copy, images, videos, buttons, links, etc. When evaluating content, we don't have to worry about things like the navigation bar or footer. These elements are static and any change made to them should be universal.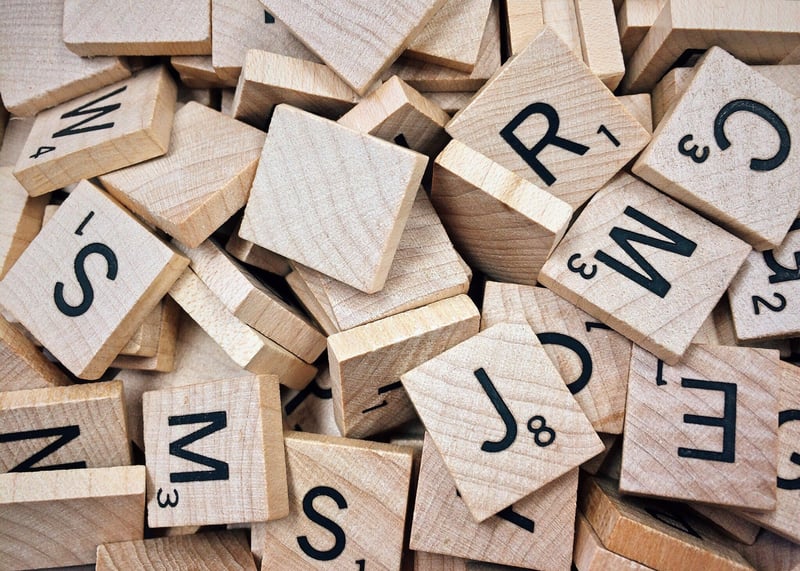 Optimizing content means that you are making the information on the page as good as it can be for users and search engines alike. The copy, or writing, of the webpage, should reflect the page's purpose. It should have a good number of keywords and be long enough to provide the necessary data.
Optimize content with the user in mind. Does the webpage answer a user question and is it easily navigable? Is it properly connected to another page with more information?
Sometimes optimizing content means rewriting copy. It could also mean making sure that the images have "alt text" or that the sections are properly labeled with "header tags".
These things add specificity and organization to on-page SEO. We can add this to the HTML to let search engines further identify and categorize web pages.
No need to worry; you don't need in-depth knowledge of coding to fully optimize your webpage's content. Here are a few HTML and coding concepts that will be helpful. Let's use this blog post as a visual example of elements like header tags, alt text, and copy.
Header Tags are an organizational tool for the webpage. They mark the different sections of the page. Traditionally, there are six header tags that are marked h1, h2, h3, h4, h5, and h6.

All the header tags have different font sizes and weights to emphasize their importance. The most important tags for SEO are the h1 and h2 tags.
The h1 tag serves as the top-level header. In the case of this blog post, the h1 tag is Automotive SEO: A Guide to Richer Results. While the title tag and the h1 tag are similar, try to add variation between the two. This way you can use more keywords in meaningful ways.
The h2 tags are the headers for the sections of the blog. These include On-Page Automotive SEO, Data Analysis, and more. All of the h2 tags provide a descriptive title for what that section is going to be about.
The search engine evaluates both the h1 and h2 tags to determine the relevance of the information on the page. Additionally, the user is able to quickly find the information they are looking for. This helps with engagement.
The presence of H3 tags does not harm your SEO score, but it can help. H3 tags can be helpful for organizing long content pages like this one! The more specificity there is, the easier it is for the search engine to rank the page. For this post, we used H3 tags to mark the subheadings (What is SEO?, Challenges of Automotive Keyword Research, etc).
Alt text is an accessibility tool used for images that benefit everybody. Alt text, short for alternative text, provides a brief description of the image for those who are unable to see it.
It is also beneficial when the webpage doesn't load correctly. Users can read what the image is. Finally, alternative text is a great way to include keywords in a new form.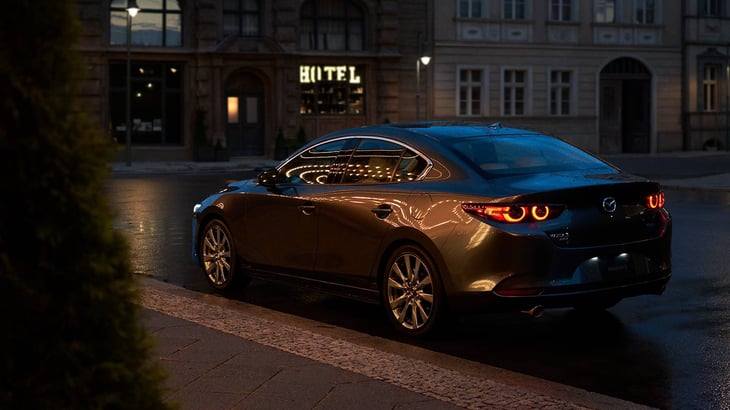 Let's look at the above image for the 2023 Mazda3 Sedan. This image is for a webpage all about the vehicle's exterior. The keyword for this page is "2023 Mazda3 Sedan exterior".
The title of the image may be - 2023-mazda-3-sedan-back-view. The alt text is, "The 2023 Mazda3 Sedan sitting on a well-lit street in the evening to showcase the back view of the exterior".
Finally, we can look at the copy of the webpage. The copy, or the writing, on a website, is the best place to use keywords in a natural way. It should be relevant and able to answer questions that people have.
This blog post provides information about effective automotive SEO. When planning copy for this post, we wanted to include plenty of tangible examples. We worked to answer questions like, how to grow using SEO.
Another key component to content optimization having quality links throughout the website. These web pages should include links that point internally. This helps build website structure.
External links are also important because they improve your site's authority and reputation. All external links should be to reputable sites. In the automotive industry, this means linking directly to the manufacturer's website. You can also link to well-known consumer-review websites like Consumer Reports or Kelly Blue Book.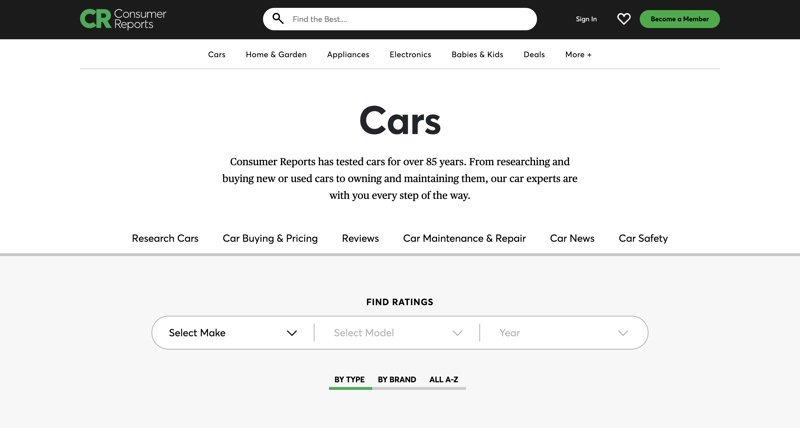 You decide to write about the "2023 Kia Soul Specs". Internal links for a blog post like this would be to the Kia Soul inventory page or a service appointment page. You can link externally to the Kia USA website and any award websites like JD Power.
Measuring Success - Data Analytics & Metrics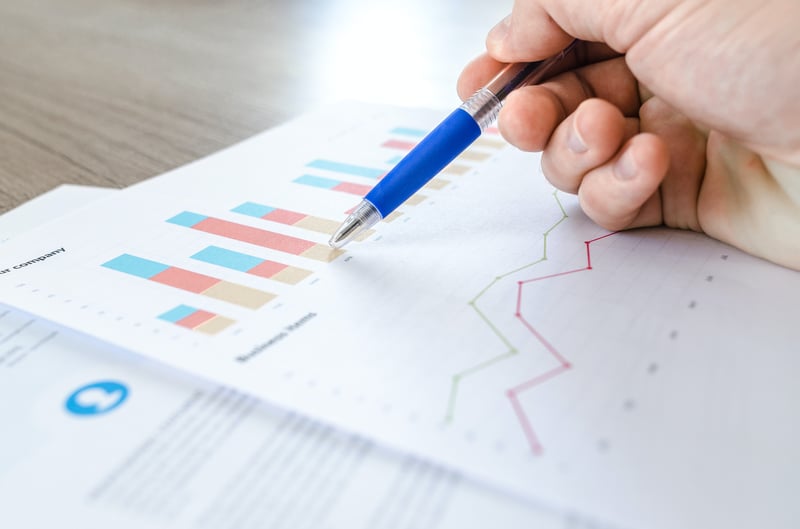 Data analytics is the practice of collecting and studying information. Data tells us a story that lets us connect our actions to outcomes. You can collect data on anything! You can study the number of petals on a flower to how a person interacts with a company. Data can provide insight into how we interact in the world.
We know what SEO is, and how it works, so how can we use data analytics to improve our tactics? Search engines index websites and then track information on the website to see how people interact with different pages. They gather data on words, images, accessibility, and relevance.
There are many different ways to measure the success of your SEO. To be effective, you have to choose the variable you want to measure, and the tools you will measure with. In on-page SEO, we work with this data to create content and make website changes. We focus on using keywords that are trending and/or relevant to an industry. Other key data points are:
how much time someone spends on a webpage
Number of sessions
New monthly users
Number of clicks compared to views
Device traffic (mobile vs desktop)
You can track these and other data metrics using Google Analytics, SEMRush, Lighthouse Inspect tool, and other sources.
The Don'ts of On-Page Automotive SEO
We have covered a lot of ground regarding Automotive SEO and how we use it. But what can hurt your ranking?
Keyword Stuffing
When practicing SEO, more does not always mean better. Make sure to favor quality over quantity. When optimizing content, do not add as many keywords to a page as you can. This is keyword stuffing and it drops the quality of content.
To better understand, think back to high school, when you wrote a paper for class. You made it to the end, but still needed 100 more words for your conclusion.
The solution was to state the same thing as many ways as you could. There was no value added to the content. Below is an example of a meta description that uses too many keywords at once.
If you are looking to optimize your car dealership ranking on search engines, then look no further than this blog post about automotive SEO or search engine optimization. Learn how automotive SEO can be used to improve your car dealership's marketing strategy and increase search engine result page ranking.
Easy Ways to Implement Automotive SEO Today
Okay! You made it to the end of the beginner's guide on automotive SEO. There is a lot of information here to process, so here are three easy things you can implement today.
Audit your headers - Go through the pages of your website and make sure that all of them have h1 and h2 tags. This will help search engines identify the structure within the website.
Start a blog - If you haven't already, start a blog for your website. Blogs can help you stay relevant in your industry. It is also a great way to include keywords and create valuable content.
Track your progress - Start gathering data on your website and its search ranking. As you incorporate SEO into your overall marketing strategy, you can track the impact it has on ranking and increased traffic.
Search engine optimization is an important part of a well-rounded digital marketing strategy. Remember that you don't have to tackle it alone. Sokal Media Group is a full-service advertising agency that offers SEO services for automotive and non-automotive industries. We have a dedicated team of coordinators, specialists, and managers who can help you climb in rankings!