This year (2019), Sokal sent 18 dedicated team members to the Digital Dealer 27 Conference and Expo hosted in Las Vegas this year! This event lasted for several days starting on the 18th of August, consisting of many booths, discussion panels, and keynote speakers. Overall, the trip was a great success and our CEO, Mark Sokal, was honored to be able to speak on a subject important to our agency. We wanted to provide a little info on what went into preparing this journey! If you want just a quick glimpse into what went down, check out this video documentary we put together!
What Is Digital Dealer?
Digital Dealer is a conference centered around the automotive industry. It is a time and place where car dealers, respective agencies, and other vendors can come together to collect new business and form new partnerships. Think of a trade fair, but strictly for the automotive space! If you want to learn more, you can head over to the [Digital Dealer website] to find out details for next year!
What Was The Planning Process In Order To Prepare For DD27?
There was so much to plan, schedule, and organize to make sure the event went smoothly. We had a mixture of digital and print materials to create in addition to our 20-foot by 20-foot booth! Some of the main print pieces consisted of our Sokal booklet, which gives brief descriptions about each of our products, and then our one-sheeters, which go into detail about the product or service and what is included.
We also had various giveaways like Sokal branded playing cards, pens, stickers, and other various things. Plus, we had a big raffle item: The Cruzin' Cooler! This cooler is able to store everything you need with one advantage over all other coolers—you can drive it around. It has an electric motor attached to the back that provides the user with hours of carting fun! It was a big hit and we are excited for the lucky person who won the cooler!
The biggest challenge—and the most fulfilling part—was the design of our Sokal booth, which we spent months preparing and rearranging. A lot of back and forth took place to make sure every element was correct. Check out what it looked like below!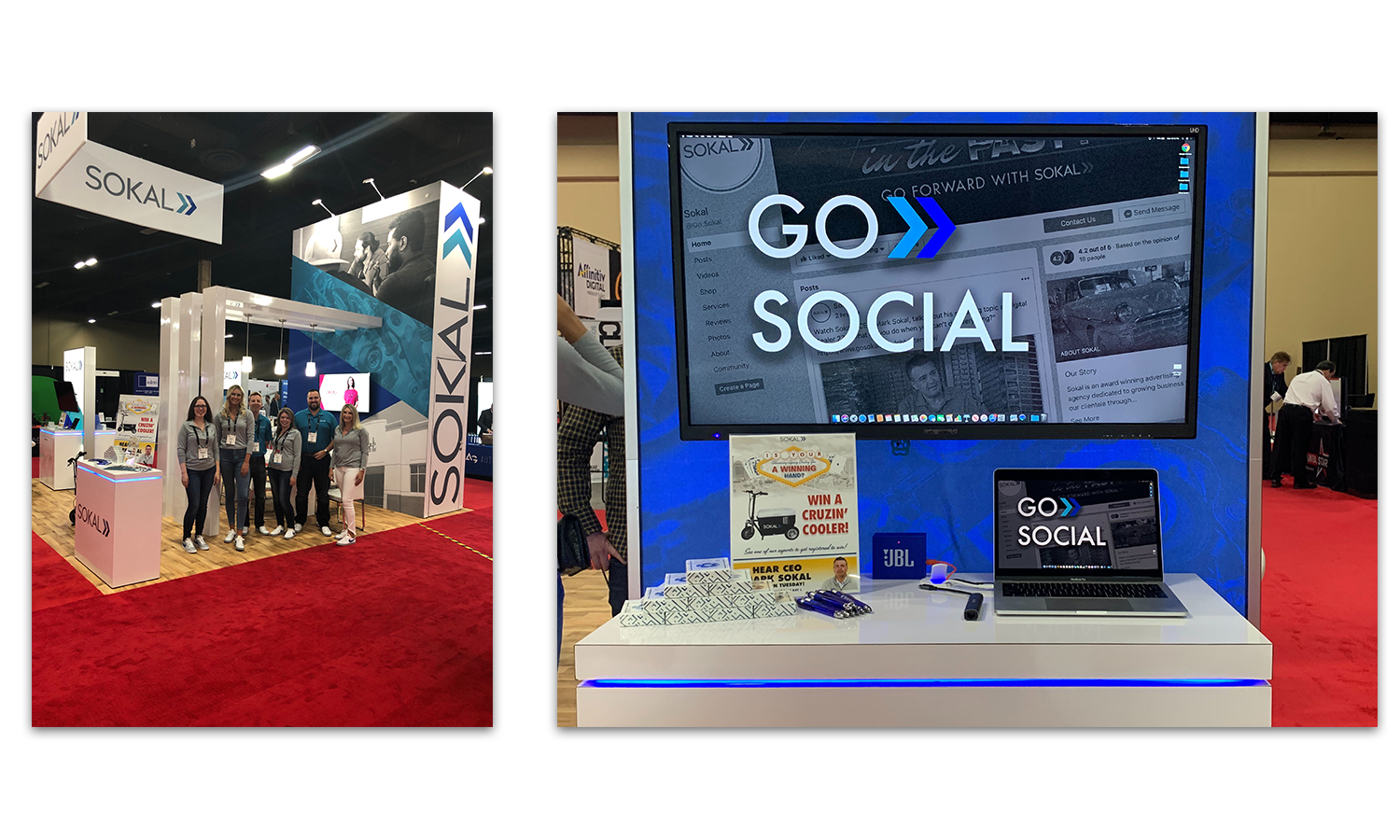 On the digital side of things, we had a main product deck going into detail on each one of our products, and our in-house production team worked hard to make stunning and interactive videos about our products and services. You can check those videos out here!
We were also honored to have our own CEO, Mark Sokal, speak on a topic that is very important to us as an agency: What To Do When You Can't Do Everything. You can watch the speech here, along with the slides shown at Digital Dealer!
So What Were The Results Of The Conference?
Overall, the Digital Dealer conference was a great success for us. Our booth definitely made a statement, as we gained a lot of compliments on our design and layout. Many people noted that they could see our booth from almost everywhere in the main conference hall, which is a big deal! Digital Dealer 27 was an excellent opportunity to widen our brand recognition and share our services with people who had never heard of us, and we definitely took advantage of it.
Is Sokal Going To Any Other Upcoming Conferences?
Yes! Sokal will be exhibiting at NADA in February 2020. Check for updates and other news!